Royal Studios Family Day
Celebrating Willie Mitchell & The Music of Royal Studios
GRAMMY Museum MS

800 W Sunflower Rd

Cleveland, Mississippi 38732

Sep

18

, 2021

Show: 10:00AM
Royal Studios Family Day will be held at the Museum on Saturday, Sept. 18, from 10 a.m. to 2 p.m. The FREE event will give attendees the opportunity to explore the GRAMMY Museum and its exhibits, including the Royal Studios exhibit, and participate in arts activities with the Delta Arts Alliance. At 11 a.m., the Museum will host a special screening of Willie Mitchell and the Music of Royal Studios, followed by a 12 p.m. performance featuring Variety in partnership with Deep Roots. Prior to the event, at 9 a.m. guests can get moving to the music of Motown at the Museum's FitBeat Series: Motown Moves, presented by the Bolivar Medical Center Foundation.
---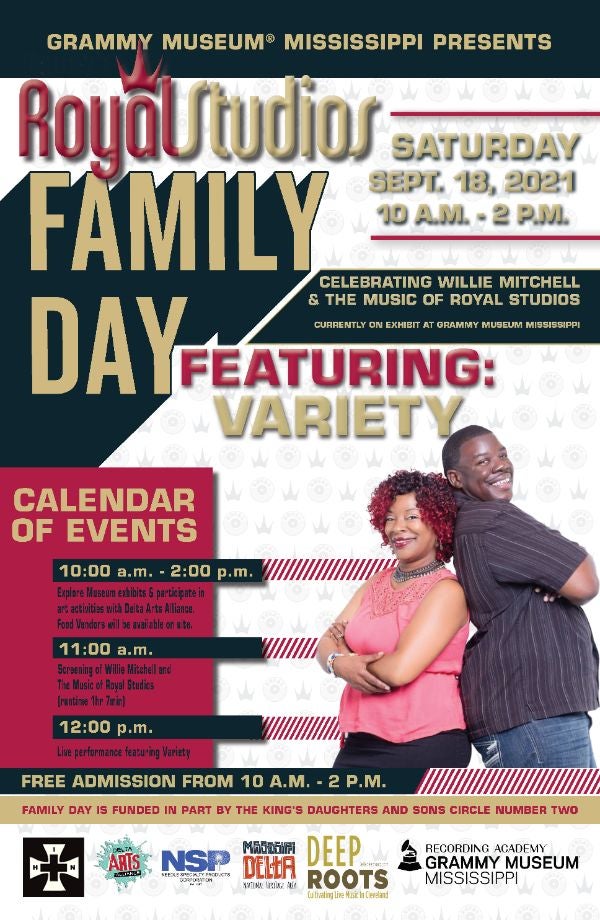 ---
Schedule of Events:
Before Family Day officially gets underway, join us for FitBeat Series: Motown Moves at 9 a.m.
10 a.m. - 2 p.m. – Explore Museum Exhibits & Participate in Art Activities with Delta Arts Alliance. Food Vendors will be available on site.
11 a.m. – Screening of Willie Mitchell and The Music of Royal Studios (Runtime - 1 hour 7 minutes)
Presented by the Recording Academy® Memphis Chapter, GRAMMY Museum® Mississippi, and the Black Music Collective, this film celebrates Willie Mitchell and the Music of Royal Studios. GRAMMY® winning writer/filmmaker Robert Gordon interviews key recording artists who have recorded at Royal Studios, including GRAMMY-winning artists Dee Dee Bridgewater, Steve Jordan, and Boo Mitchell. There will also be a few surprises highlighting the musical creativity that continues to flow out of this historic studio, including recreations of classic recordings made at Royal Studios.
12 p.m. – Live Performance featuring Variety
*All times are subject to change without prior notice.
---
Willie Mitchell & The Music of Royal Studios, is a collaborative exhibit between the Mississippi Museum and Memphis-based Royal Studios, that tells the story of the iconic studio—one of the oldest in the world that continues to operate today—and the late Willie Mitchell, who ran the studio and produced many artists on its label, Hi Records. This exhibit will be on display at GRAMMY Museum Mississippi through February 2022.
Family Day is sponsored in part by The King's Daughters and Sons Circle Number 2. Additional support is provided by Delta Arts Alliance and Deep Roots music project.
---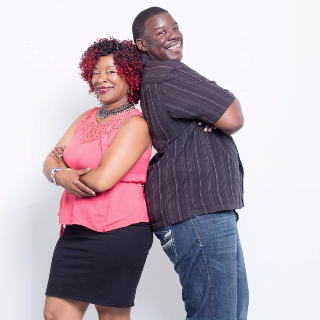 Variety is the popular "old-school" R&B/soul duo of siblings Eric Edwards and Shara White from Cleveland, Miss. They have been performing together across the country for more than 25 years. Their upbeat repertoire is the kind of music that, according to Eric, makes audiences want to "eat barbecue and drink cold beer." Eric's voice has been compared to the Isley Brothers, and Shara's voice draws comparisons to Whitney Houston, but they both feel that God has given them each a unique voice. Although known for their R&B style, the duo is also deeply rooted in gospel music. The duo has released an album together titled There Is No One Else, and in addition to writing original music for God's Anointed Voices, Eric has released an R&B project titled Those Vinyl Days. Variety has shared the stage with Marvin Sapp, Doug Williams, and GRAMMY winner Shirley Caesar. Eric has also toured as a musician with Little Milton Campbell, Bobby Rush, LaVan Davis, and the B.B. King Blues Band.
Additional Support From