Student Tours & Workshops
Student Group Tours are available outside of the current, posted general admission hours. To accommodate most student groups, tours are available Monday - Friday from 9 a.m. - 2 p.m. Please call for special requests outside of these times. Check out our various offerings below to help plan your next visit.
In Person

Scheduled Programming

Lunch Options

Virtual Livestream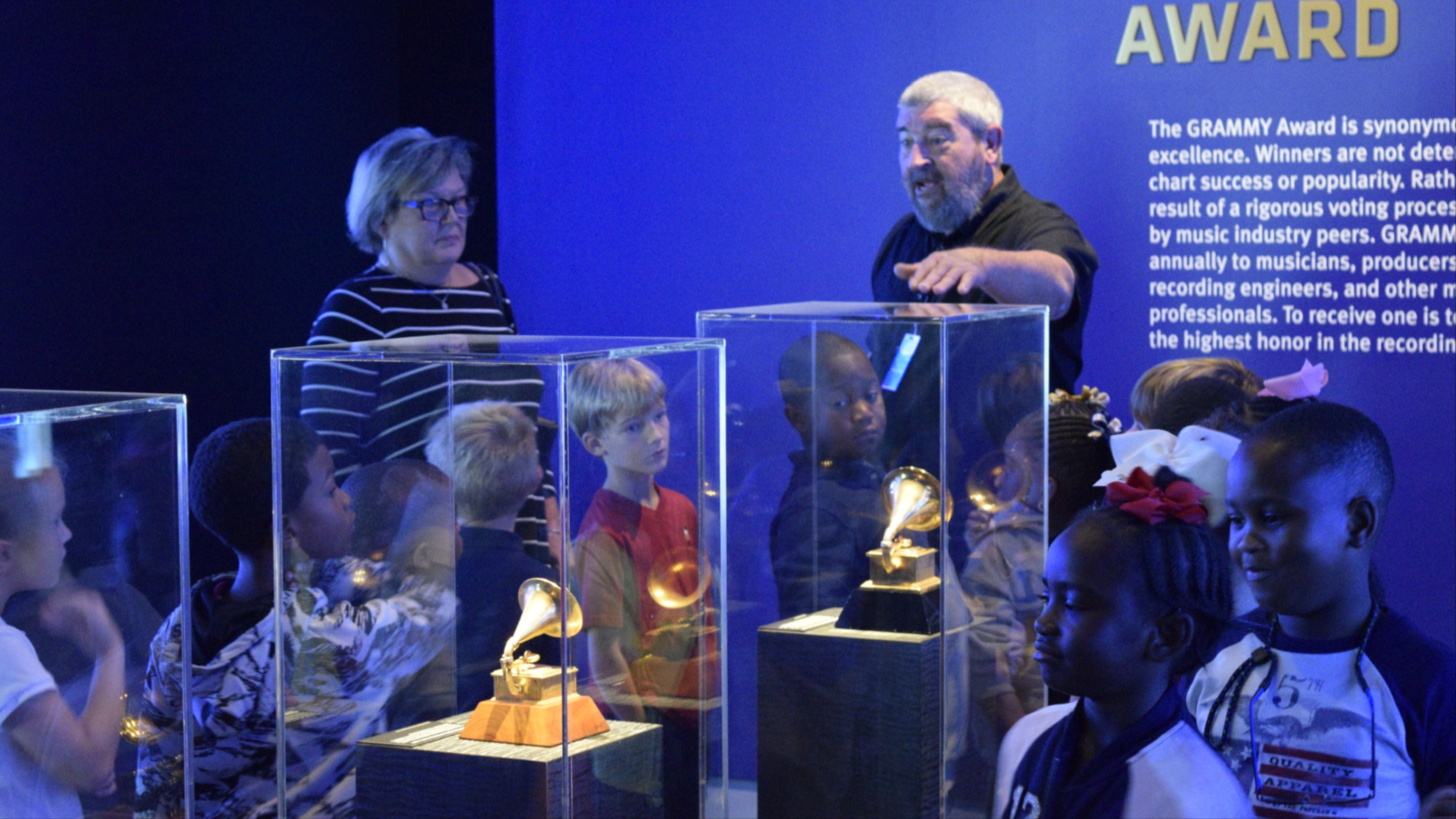 Tours
Perfect for all ages, student groups of 10+ can experience the power of music through a self-guided, interactive tour enhanced with additional study materials to help engage them as they are immersed in exhibits, films and artifacts designed to explore the historical, cultural and social context of music. Most tours last between 60-90 minutes. Please schedule at least 3 days in advance.
Price - Minimum of 10 students $5 per student. (Ages 5- 17) $3 per student (Under 5)
One chaperone admitted free per 10 students. One bus driver admitted free per 20 students. Additional Chaperones $10 per person.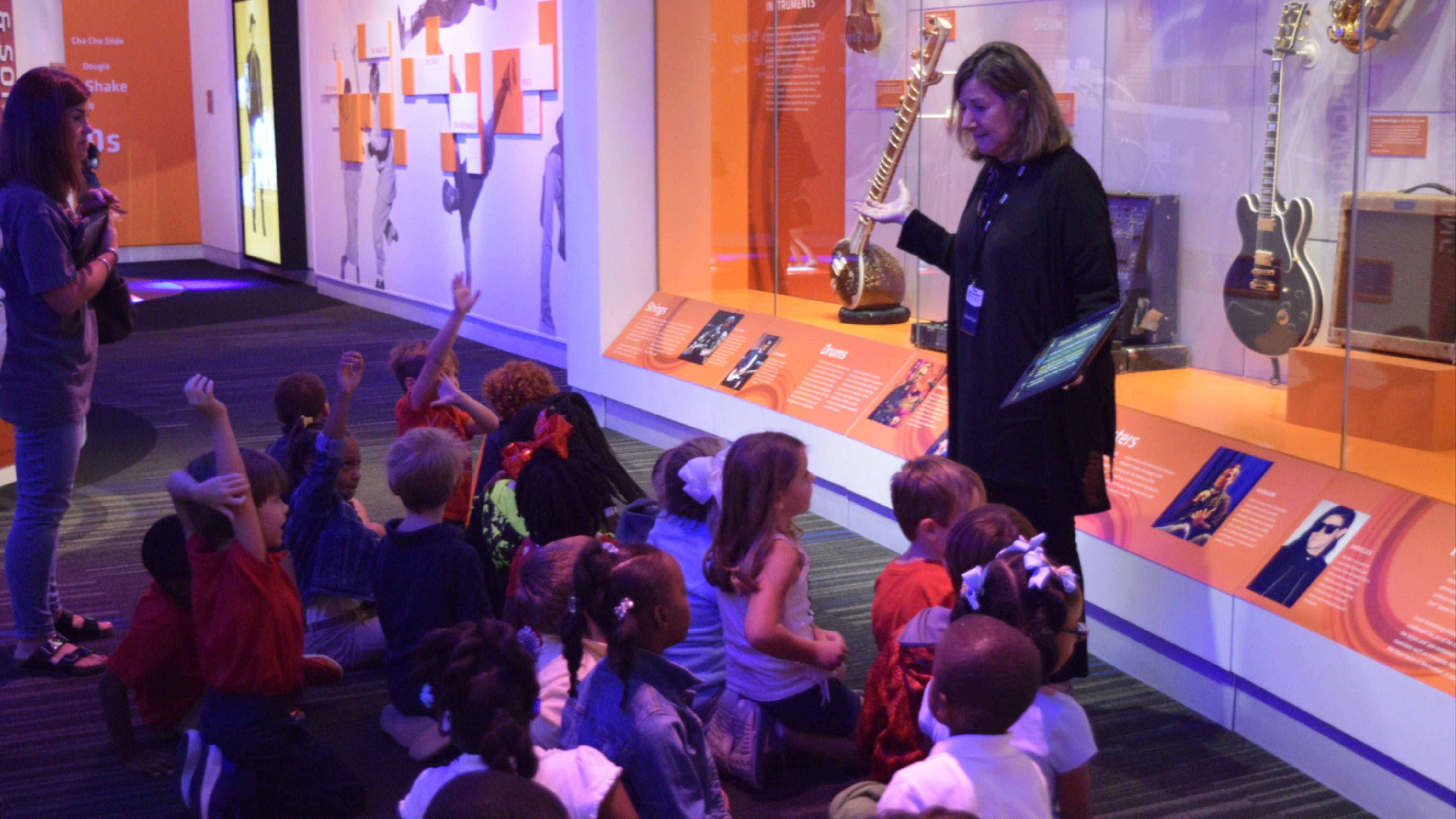 Workshops
Interactive programs led by Museum staff and music professionals, evoke further exploration and extend learning outcomes for students. These workshops feature guest artists, a behind the scenes look at the history and creative aspect of the music world, as well as hands-on activities focused on the technology used in the industry. All workshops include a tour and are subject to availability. All workshops must be booked no less than two weeks prior to the requested date of visit and require a minimum of 20 students. The overall experience ranges from 90 - 120 minutes.
Price - Minimum of 20 students. Includes Tour. $8 per student. (Grades 3+)
One chaperone admitted free per 10 students. One bus driver admitted free per 20 students. Additional Chaperones $10 per person.
Click here to see our current offerings!
How do I book?

Step 1: Pick a Date!

Monday - Friday, 9 a.m. - 2 p.m.

Step 2: Pick a Workshop!

Enhance your visit and choose one of our available or scheduled workshops. Download the 2021-2022 Education Program Guide for details.

Step 4: Add-On!

Make it a trip and enjoy a catered lunch and/or visit other local attractions.

**Due to the Museum's current COVID-19 safety protocols and in order to ensure compliance with all federal, state, and local orders as it pertains to serving food & beverage, we require a minimum of 7 days to facilitate groups planning to have lunch onsite. This includes all food & beverage including sack lunches brought from the school or lunch orders placed through one of our approved catering vendors.**

What form of payment is accepted when booking a field trip?

GRAMMY Museum Mississippi accepts American Express, MasterCard, Visa, Discover, Purchase Orders and school checks. Payment is required on the day of your tour for the estimated student number. Memberships do not apply to admission for school groups. Group admission must be paid in one (1) transaction with one (1) form of payment. Split transactions will not be permitted.

Please note for groups paying by check: There are no refunds for students who cancel. We can offer vouchers should your numbers change.

The Museum is able to provide a limited number of admission scholarships to school groups grades K-12 wishing to tour the Museum at a reduced rate or no cost. To request a scholarship, CLICK HERE.

May I visit the Museum prior to coming with my students?

Educators are invited to bring a guest and enjoy the Museum at their leisure before bringing their students for a school tour or program. Educators must submit a valid school ID. Additional guests will be charged full price.

Please email education@grammymuseumms.org in advance of your visit to receive extra materials!

Are there restrictions on group size?

Student groups must have 10+ in order to get the group rates. When booking a workshop, we ask that there be at least 25 students in the group. For groups of 200+, the Museum will contact you about bundled ticket options to help accomodate the size of the group.

What other things are there to do in the area?

Make the most of your visit to the Delta and check out one of our Bundled Ticket Packages...COMING SOON!

What is some other important info I should know when scheduling a trip?

The Museum seeks to accommodate students groups as much as possible by offering the following services:

Bus dives for easy loading & unloading
Self-guided tours
Mobility assistance and sensory kits by request
Friendly & knowledgeable staff & volunteers
Retail shop with items from $0.50 - $50.00

For a more detailed layout of the Museum and its' exhibits, check out our Teacher Resources tab to download our Discovery Guide!