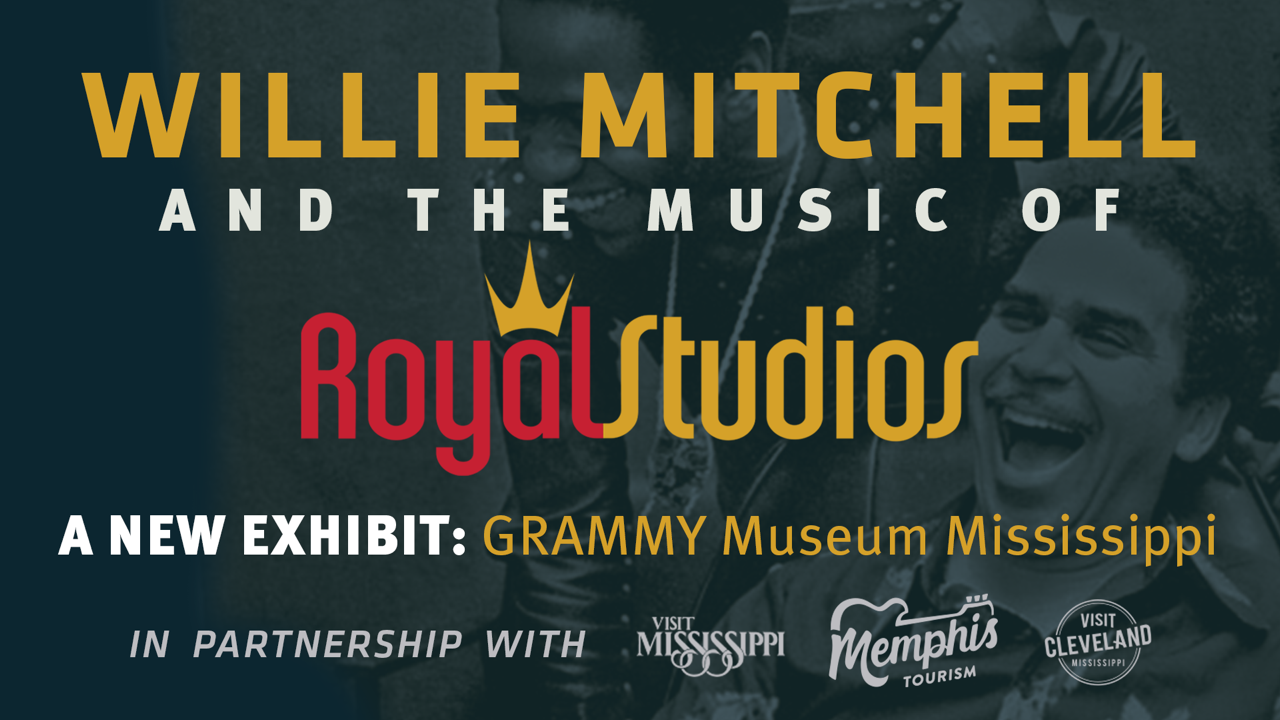 Willie Mitchell & the Music of Royal Studios
GRAMMY Museum MS

800 W Sunflower Rd

Cleveland, Mississippi 38732

Oct 1, 2020

Through

Aug 15, 2022

TUES - SAT: 10 AM - 5 PM
SUNDAY: 12 PM - 3 PM
In partnership with Memphis Tourism, the exhibit, titled Willie Mitchell & The Music of Royal Studios, is a collaboration between the Mississippi Museum and Memphis-based Royal Studios, and will tell the story of the iconic studio—one of the oldest in the world that continues to operate today—and the late Willie Mitchell, who ran the studio and produced many artists on its label, Hi Records. On display through February 2022, the exhibit will feature artifacts from Royal Studios and Hi Records artists, such as:
- Boo Mitchell's Record Of The Year GRAMMY® Award for Bruno Mars' "Uptown Funk," which was recorded at Royal Studios
- Willie Mitchell's Trustee GRAMMY Museum® Award
- Al Green's "No. 9" microphone, an RCA 77DX ribbon mic that Al Green preferred to use on his recordings
- Plus more artifacts from legendary Royal Studios artists and sessions
Willie Mitchell and Royal Studios played such an important role in developing the Memphis soul sound. And today, as one of the oldest still-operating recording studios in the world, Royal Studios continues to bring us music by such contemporaries as Bruno Mars and John Mayer. We're thrilled to be able to share this important piece of music history with our visitors.

Emily Havens, Executive Director
The building that Royal Studios and Hi Records reside in today was originally built as a movie theater in 1915. Converted into a studio in 1957, Royal Studios—home of Hi Records and the Hi Rhythm Section—grew from a minor rockabilly studio into one of the most successful producers of soul music worldwide. Under Willie Mitchell, the musical direction of Hi Records changed significantly from rockabilly to R&B as Mitchell helped fashion the modern Memphis soul sound. Mitchell signed with Hi Records in 1963 as a session trumpeter. The pinnacle of Mitchell's personal recording career was in 1968 with "Soul Serenade," which reached No. 10 on the charts.
After Hi Records president Joe Coughi passed away in 1969, Mitchell took on more production and administrative duties. Soon, his own recording career was eclipsed by his genius as producer of one of the most influential singers of the 1970s, Al Green. For the next four years, Green and Mitchell had a No. 1 hit each year. In his career with Hi Records, Green would go on to sell more than 20 million records. Other top artists who have recorded hits at Royal Studios include Chuck Berry, Melissa Etheridge, Bruno Mars, John Mayer, Charlie Rich, Keith Richards, Rod Stewart, Ike and Tina Turner and many more. Hi Records and Mitchell also produced other known artists, including Ann Peebles, Don Bryant, George Jackson, Ace Cannon and Bobby Blue Bland's highly influential album, A Touch of the Blues.
Currently owned and operated by Willie Mitchell's son, Lawrence "Boo" Mitchell, and granddaughter, Oona Mitchell Bean, Royal Studios is one of the oldest perpetually operated recording studios in the world.