Words & Music: Jimbo Mathus
A Songwriter Series
GRAMMY Museum MS

800 W Sunflower Rd

Cleveland, Mississippi 38732

Mar

30

, 2023

Doors: 6:30 p.m.

Show: 7:00PM

Non-Members $20 each Members $15 each
Join GRAMMY Museum® Mississippi as we feature Mississippi native singer/songwriter, instrumentalist and GRAMMY-nominated Jimbo Mathus on Thursday, March 30, as the featured guest for the next installment of the Museum's Words & Music: A Songwriter Series. The event will feature an evening of music and conversation with Mathus, who has worked with acts such as the North Mississippi Allstars, Squirrel Nut Zippers, Jim Dickinson, and Buddy Guy, among many others.
Words & Music: Jimbo Mathus will take place on March 30 at 7 p.m. in the Sanders Soundstage. Tickets are $15 for GRAMMY Museum Mississippi Members and $20 for non-members. Additional support for this program is provided by Visit Cleveland.
Mathus is setting up shop as Artist in Residence this March through April at the Shared Experiences headquarters in downtown Clarksdale, Mississippi. From March 18 through April 23, Mathus will be creating a marionette theatre and film entitled "The Secret World of Charlie Patton." For more information on the residency, visit http://www.sharedexperiencesusa.com/jimbo.
---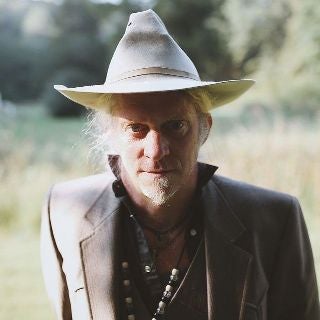 JIMBO MATHUS
Sitting behind the wheel of his pickup truck, James H. "Jimbo" Mathus was crisscrossing America in search of something. Not for anything he could put his hands on, necessarily, and not for anything he could see. But he thought he would recognize it when he found it. At 19 years old, he was looking for a place to begin.
His life to that point—his youth spent in Corinth and Clarksdale; his brief stay at Mississippi State University, where he dabbled in philosophy; and his stint traveling Old Man River with the Merchant Marines—were all preamble to the real Jimbo Mathus, the person he began looking for some time between thumbing a borrowed paperback of "Zen and the Art of Motorcycle Maintenance" and dropping out of college.
The ingredients were all there, thanks in part to Mathus's father, who taught him the ropes of bluegrass, honky-tonk and gospel music. Not to mention the blues he absorbed on visits to Clarksdale where his grandfather, Tony Malvezzi, ran the Conerly shoe store chain. He motored through California, New York and Alaska, using his time off from the river barges to find a place where he fit in. Chapel Hill, North Carolina, was funky and Southern enough, he thought, and it had a real music scene supported by local record labels and the University of North Carolina student body. Mathus's intuition proved correct. Chapel Hill was not only a hotbed of musical activity, but also an intellectual enclave where he could learn all he wanted for free at the UNC library. He set out to find the like-minded musicians who would eventually join him in his new band, Squirrel Nut Zippers. Since those days in the early 2000s, Mathus has released more than a dozen solo albums and reactivated Squirrel Nut Zippers, which has become a popular draw across the U.S. His latest release, These 13 [2021], is a collaboration with former Zippers bandmate-turned-solo artist Andrew Bird.
Additional Support From