Stories on Screen: Take Me To The River New Orleans
Featuring a Post-Screening Conversation With Martin Shore, Arin Canbolat, and Donald Harrison
GRAMMY Museum MS

800 W Sunflower Rd

Cleveland, Mississippi 38732

Oct

10

, 2022

Doors: 6:30 p.m.

Show: 7:00PM
On Monday, October 10, GRAMMY Museum® Mississippi will screen Take Me to the River New Orleans which celebrates the rich musical history and the heritage, legacy, culture, and influence of New Orleans and Louisiana. Following the screening, there will be a moderated conversation with Martin Shore, Arin Canbolat, and Donald Harrison. This program is free to attend thanks to our sponsor Ella Fitzgerald Foundation. In partnership with Take Me To The River Education Initiative and Berklee City Music.
---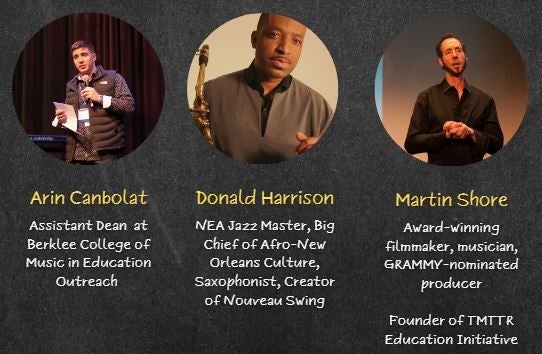 ---
ABOUT THE FILM
"Take Me to the River New Orleans," the second film, celebrates the rich musical history, the heritage, legacy, and influence of New Orleans and Louisiana. A true collaboration and melting pot of influences from around the World, that came together and formed one of the world's most unique cultural jewels. Our adventure shows the resiliency of surviving disaster to a formidable rebirth. Pairing legacy musicians with stars of today.
There is nothing like the music of New Orleans. It is a wholly unique, worldwide collaboration that has resulted in an exceptional musical genre never before heard. This film will give the viewer an insightful historical perspective of how global influences shaped, and continue to shape, a musical quilt that formed the music of this extraordinary city. Influences came from many places: Cuba, South America, Africa, Europe, Canada, and America. All contributed to the blending and shaping of a musical genre that is rich in culture and heritage. We, as Americans, are the conservators of this unique cultural phenomenon.
The film will highlight 20 to 25 new songs, combining multiple generations of New Orleans musicians. Legacy musicians will collaborate with stars of today and students from the Tipitina's foundation, under the guidance and tutelage of Donald Harrison.
This film shows that New Orleans music has always been a collaboration of intergenerational, interracial, intercontinental and genderless effort.
New Orleans music includes the creation and influences of American jazz and jazz musicians and the introduction of unique instruments, story songs and life's hardships from around the world.
Featured collaborations will include some of the following artists, all of whom are from within a 100-mile radius to New Orleans including: The Neville Brothers, The Meters, Jon Batiste, Mystikal, Ani Difranco, Davell Crawford, Dr. John, Galactic, Anders Osborne, Big Chief Monk Boudreaux, Dumpstaphunk, Snoop Dogg, LG, Lost Bayou Ramblers, G-Eazy, Rebirth Brass Band, Donald Harrison, Christian Scott, Walter Wolfman Washington, Mannie Fresh, Pretty Lights and many more.
As we go from one session/song to the next, we will learn and experience how New Orleans music was created and how the musical community was tested to the brink of extinction when Katrina hit New Orleans.
Click Here for more information.
---

Run Time - 110 Minutes | Not Rated
Additional Support From