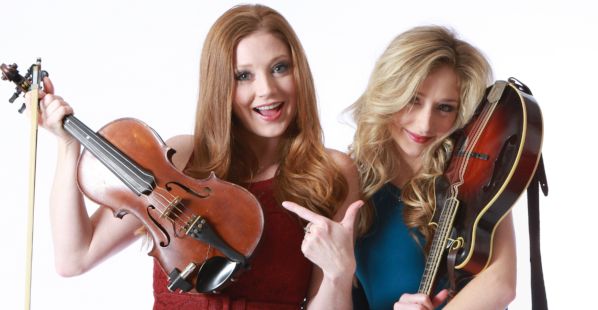 Spotlight: HanaLena
Sanders Soundstage
GRAMMY Museum MS

800 W Sunflower Rd

Cleveland, Mississippi 38732

Nov

5

, 2018

Doors: 6:30pm

Show: 7:00PM

$10 Members
$15 Non-Members
GRAMMY Museum® Mississippi is thrilled to welcome Hannah and Caroline Melby of HanaLena to the Sanders Soundstage for a performance and conversation about their career and what's next for these up and coming artists from Starkville, Mississippi.
---
Hannah and Caroline Melby, on fiddle and mandolin respectively, began as instrumentalists in a string band in Mississippi in the late 90's and moved to Nashville in 2010 taking with them all their memories and adoration of their heritage. Though their training was in "ole time" fiddling, folk, and bluegrass, they have performed various styles of music which include country, blues, celtic, cajun, and pop/rock over their musical career.
HanaLena's last album was recorded by Nashville producer, Bil VornDick, winner of 7 GRAMMY Awards. The sister's self-titled EP is a collection of 5 songs that features a unique blend of acoustic instrumentation, moving lyrics, and tight vocal harmonies. Their bluegrass influenced sound features them as seasoned performers who can grab an audience's attention on the first measure of a song. Since the completion of this album, HanaLena has been featured in the Nashville Music Guide, Maverick Magazine (The United Kingdom's top Country Music Magazine), and Country Music Weekly.
Their book, "Recipes and Road Stories" features the self-pinned stories of the two young girls coming of age in their musical careers along with a collection of recipes from friends, family, fans, and people who have been a part of their music lives.
Tenn-Tom and the Tenderheart Sessions, a creative project of Caroline's has connected sounds of the past with the talent of the present day, and the styles of many to represent her relationship with the Tennessee Tombigbee River. It is apparent that her connection to the river she calls home is the driving force behind her latest project that HanaLena debuted in November 2017.
Tickets on sale for Non-Members starting at 10am on October 11, 2018.
---
For more information about HanaLena CLICK HERE