Hook, Lines, and Sinkers - A Pop Lyric Writing Experience
Learning the Business of Music
GRAMMY Museum MS

800 W Sunflower Rd

Cleveland, Mississippi 38732

Apr

3 - 21

, 2020

Show: 10:00AM
Please note that due to the Museum's temporary closure for COVID-19, both education programs scheduled on 04/03/2020 and 04/21/2020 have been cancelled.
---
Behind The Scenes - Programs that explore the history and creative aspect of the music world.
Learn about lyric writing, using metaphors, similes, rhythms, and rhymes in your lyrics, casting your song like a movie, creating story lines and characters, and more as we lead students in exercises that will challenge them to begin their songwriting process. Students will be given a songwriting overview before being asked to pen their own creation to share with the group. Recommended for grades 8+.
---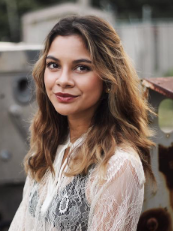 LIbby Switzer is a singer/songwriter from Gulfport, MS. She currently studies Entertainment Industry Studies with a concentration in Entrepreneurship at Delta State University. Switzer has been singing and performing since the age of 8 and writing songs since the age of 14. Growing up, her parents turned the radio to any genre from country to funk to rock n' roll and now she finds herself blending all those genres together to make it her own. Through the years, she has taken her passion for music and turned it into a career by writing songs with her band, Jimi's People and co-writing with other musicians she has met in the industry. Switzer has built a passion for sharing her writing skills with others and teaching young people about the importance of music and especially the importance of songwriting.