Gospel Roots Family Day
GRAMMY Museum MS

800 W Sunflower Rd

Cleveland, Mississippi 38732

Sep

29

, 2018

Show: 10:00AM

Family Day Events
FREE To The Public

Museum Admission
Half Price Until 3:00 pm
Members Free
Join us for Gospel Roots Family Day in order to celebrate Gospel Music Heritage Month and help kick-off the Fifth International Conference on the Blues. Gospel Roots Family Day will center around this year's conference theme "Spirit of the Blues: Celebrating Roots of Delta Music through Blues, Spirituals, and Gospel." Family Day will include appearances and educational workshops from Bruce "Sunpie" Barnes, J.J. Thames, and Keith Johnson, art activities hosted by Delta Arts Alliance, and the opportunity to experience music production on the DMI Mobile Music Lab.
Family Day activities on the Front Porch are FREE to the public. Museum admission will be HALF PRICE.
---
Schedule of Family Day Events:
| | |
| --- | --- |
| 10:00 a.m. - 3:00 p.m. | Explore Museum Exhibits (Must purchase General Admission Ticket at special discounted rate) |
| 10:00 a.m. - 3:00 p.m. | Participate in Art Activities with Delta Arts Alliance & Experience the DMI Mobile Music Lab. - *FREE to the public. |
| 10:00 a.m. - 10:20 a.m. | Keith Johnson Harmonica Workshop - *FREE to the public. |
| 10:30 a.m. - 12:00 p.m. | J.J. Thames "Women in the Blues" Workshop & Performance - *FREE to the public. |
| 11:00 a.m. - 3:00 p.m. | Food Trucks on site |
| 12:00 p.m. - 12:30 p.m. | Tunica Gospel Choir Performance (The Gospel Showdown - First Place Winners) *FREE to the public. |
| 12:40 p.m. - 1:10 p.m. | Keith Johnson Performance - *FREE to the public. |
| 1:30 p.m. - 3:00 p.m. | Bruce "Sunpie" Barnes "Emergence of Blues Music and Plantation Culture" Workshop & Performance - *FREE to the public. |
* Family Day Events indicated with an asterisk (*) are FREE to the public. Special discounted rate for Museum admission runs until 3:00 p.m. CST. All times are subject to change without prior notice.
Gospel Roots Family Day is supported in part by:
King's Daughters and Sons Circle Number 2, The Delta Center for Culture and Learning at Delta State University, and the National Park Service, Lower Mississippi Delta Initiative.
---
FEATURED ARTISTS: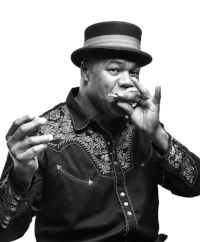 Bruce Sunpie Barnes is a veteran New Orleans musician, former park ranger with the National Park Service (30 years), actor, Ethnographic photographer, book author, former high school biology teacher, former college football All-American, and former NFL player (Kansas City Chiefs). Sunpie Barnes' many careers have taken him far and wide. He has traveled to over 50 countries playing his own style of what he calls Afro-Louisiana music incorporating blues, zydeco, gospel, Caribbean and African influenced rhythms and melodies. He is a multi-instrumentalist, master accordion and harmonica player, also piano, rubboard, talking drum, and dejembe. He learned accordion from some of the best Zydeco pioneers in Louisiana, including Fernest Arceneaux, John Delafose, and Clayton Sampy. Along with his musical group Sunpie and the Louisiana Sunspots, he has performed at festivals and concerts across the US and around the globe. Sunpie has recorded 6 critically acclaimed CDs with his compositions currently featured in 16 Hollywood film productions.
---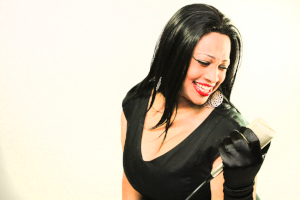 J.J. Thames began performing at the tender age of 9 years old, and became a blues- shouting banshee by the time she was just 18 years old. She cut her teeth after moving down to Jackson, MS, where she performed with the celebrated "Chitlin' Circuit" superstars such as Marvin Sease. Thames has proven to be a true survivor as she scrambled her way to the top of the roots music heap, creating a soon to be world-renowned reputation. Her debut album, Tell You What I Know (2014 DeChamp Records), received much acclaim and stayed in the top 10 on Billboard's Hot Singles Sales Chart for 21 weeks – 2 of those at #1. The album also made it as high as #3 on the Billboard's Blues Chart. Raw Sugar, JJ Thames' follow-up to her debut album is a collection of 13 original works in collaboration with Eddie Cotton, produced by Eddie Cotton (also lead guitar on the album) and co-produced by Thames, and recorded at Malaco Recording Studios. Thames continues her reign as one sexy chanteuse. She has performed all over the world with artists as a backing vocalist, and has even penned songs for some main stream pop, R&B, rock and hip-hop artists, but her path to success was not always glamorous or easy.
---
Keith Johnson is a 25-year-old graduate student at Delta State University seeking an MBA in Human Resources. As an undergraduate Keith received a BA/degree in Entertainment Industry Studies with a concentration in Audio Engineering in December 2016. Keith is also an accomplished blues musician and winner of the 2016 local International Blues Challenge Competition sponsored by the Vicksburg Blues Society held at the Ameristar Casino's Bottleneck Blues Bar in Vicksburg, Mississippi on September 18, 2016. Keith is in the process of carrying on and upholding a family legacy in the entertainment industry as he is the great nephew of blues icon, Muddy Waters. He is also the grandson of Texcellar Fields, blues singer from the early fifty and sixties who once has an opportunity to sign with Chess Records back in the day. He was born in Glen Allen, Mississippi… a small town in the heartland of the Mississippi Delta.
Additional Support From