Front Porch Music Series: Forest Fire Gospel Choir
Presented By: Jamie and Jenny Smith
GRAMMY Museum MS

800 W Sunflower Rd

Cleveland, Mississippi 38732

Oct

4

, 2018

Doors: 6:30pm

Show: 7:00PM

$8 Adults
$5 College Students
$3 Children (under 18)
FREE - Youth Under 5
GRAMMY Museum® Mississippi is excited to announce our Front Porch Music Series. On October 4, we will feature Nashville based rock band Forest Fire Gospel Choir with opening act Betzenzo. This series celebrates different genres of music every other Thursday in October and November and features both up-and-coming and established musicians and bands. Each event in the Front Porch Music Series will start at 7pm and end at 10pm. All events will be held on the Front Porch (weather permitting). Gates will open 30 minutes prior to event. Food & Beverage will be available on-site for purchase. In the case of inclement weather, the event will be held inside the Sanders Soundstage.
Please note: Government issued IDs will be checked upon arrival. Individual must be 21 years of age to consume alcoholic beverages. GRAMMY Museum Mississippi reserves the right to refuse beverage service to anyone for any reason as deemed appropriate. Ticket does not include admission into museum exhibits.
---
Forest Fire Gospel Choir is a five-piece American rock band based in Nashville, Tennessee. The band met at Belmont University in Nashville where they began to blend soulful harmonies with gritty instrumentals. Bassist Will McGee reaches deep into his Memphis roots to deliver vocals and bass grooves that are reminiscent of the late 1960s. East Coast and West Coast meet in the South as guitarists Nick Fields and Sam Hunt trade solos for riffs while Daniel Closser brings an indie rock flavor to the drums. Will Lynde, keyboardist and vocal arranging guru, collaborates with McGee to co-write much of their catalog. Forest Fire Gospel Choir's first EP (2015) fused southern rock with soulful pop that draws influence from the likes of The Allman Brothers Band, Kings of Leon, My Morning Jacket, Joe Cocker, and Alabama Shakes. Dynamic grooves, hard guitars, and lush group vocals bring the heart of their songs to new levels.
Since putting the band together in 2015, FFGC has dug into recording and transformed their basement into a fully functioning recording studio. Chasing the horizons of rock and roll, they have expanded their sound to embrace their musical diversity; from psychedelia to punk, southern rock to sixties pop, singer songwriter to soul music, nothing is out of bounds. Layer by layer, FFGC breaks the mold of rock n' roll to inject their old souls into a new sound.
As the band continues putting out singles, they have been touring throughout the south and gaining traction regionally. They have recorded in noted Nashville studios such as Welcome to 1979, Oceanway, Sound Emporium, and the Tracking Room as well as performing in prominent music competitions like Lighting 100's Road to Roo, Music City Mayhem, Nashville Sunday Night Live, and Belmont's Showcase series. Go check out Forest Fire Gospel Choir's new single, "Oh Eleanor" out now!
For more information about Forest Fire Gospel Choir CLICK HERE
---
Betzenzo is an instrumental duo of rock'n modern jam and jazz based in Cleveland, MS. Their music is energetic and dynamic, creating sounds and vibes not unlike GRAMMY award-winning artists Snarky Puppy, Medeski Martin and Wood, and Bela Fleck and the Flecktones. Formed in 2015, Betzenzo has quickly grown a reputation across Mississippi for both surprising, and engaging, audiences with their unique combination of instrumental styles. Winning the 2016 Jackson Indie Music Week Battle of the Bands, Betzenzo has been featured during the 2017 and 2018 Jackson Indie Music Week Festival, as well as in performances at the Mississippi Museum of Art. And most recently, the band was featured on Mississippi Public Broadcasting's Original TV Series "Amped and Wired," which aired state-wide in April 2018. Ryan Betz writes the songs and plays keyboards for Betzenzo.
Betz has played in many musical settings, including blues, rock, gospel, jazz, country, classical, and even the marching band. He played drums in the marching band, though. Fancy that. Betz lives in Cleveland, MS with Jeff Laurenzo. Jeff, called "Enzo" for short, plays drums and arranges beats for Betzenzo. Enzo has played in many musical settings, including rock, hip hop, blues, and even marching band. But in marching band he did not play drums, he played clarinet. Fancy that. Enzo lives in Cleveland, MS with Betz.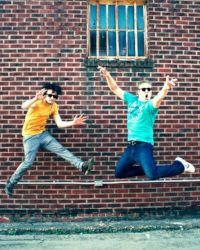 To watch Betzenzo's performance on MPB's Amped and Wired CLICK HERE
Additional Support From