FitBeat Series
Presented By: Bolivar Medical Center Foundation
GRAMMY Museum MS

800 W Sunflower Rd

Cleveland, Mississippi 38732

Apr

10

-

May

29

, 2021

Doors: 8:30 a.m.

Show: 9:00AM
In an effort to increase access to health resources within the Cleveland, Miss., community, Bolivar Medical Center Foundation, in partnership with Balance Fitness, SouthGroup Insurance, Mississippi Arts Commission and GRAMMY Museum® Mississippi, will present the FitBeat Series beginning in April. The series will feature a variety of classes to inspire healthy habits and living, including yoga, cardio, aerobics, and other types of activities intended for all ages and levels of fitness. After each program, participants will be provided with a healthy snack and free admission to the Mississippi Museum for the day.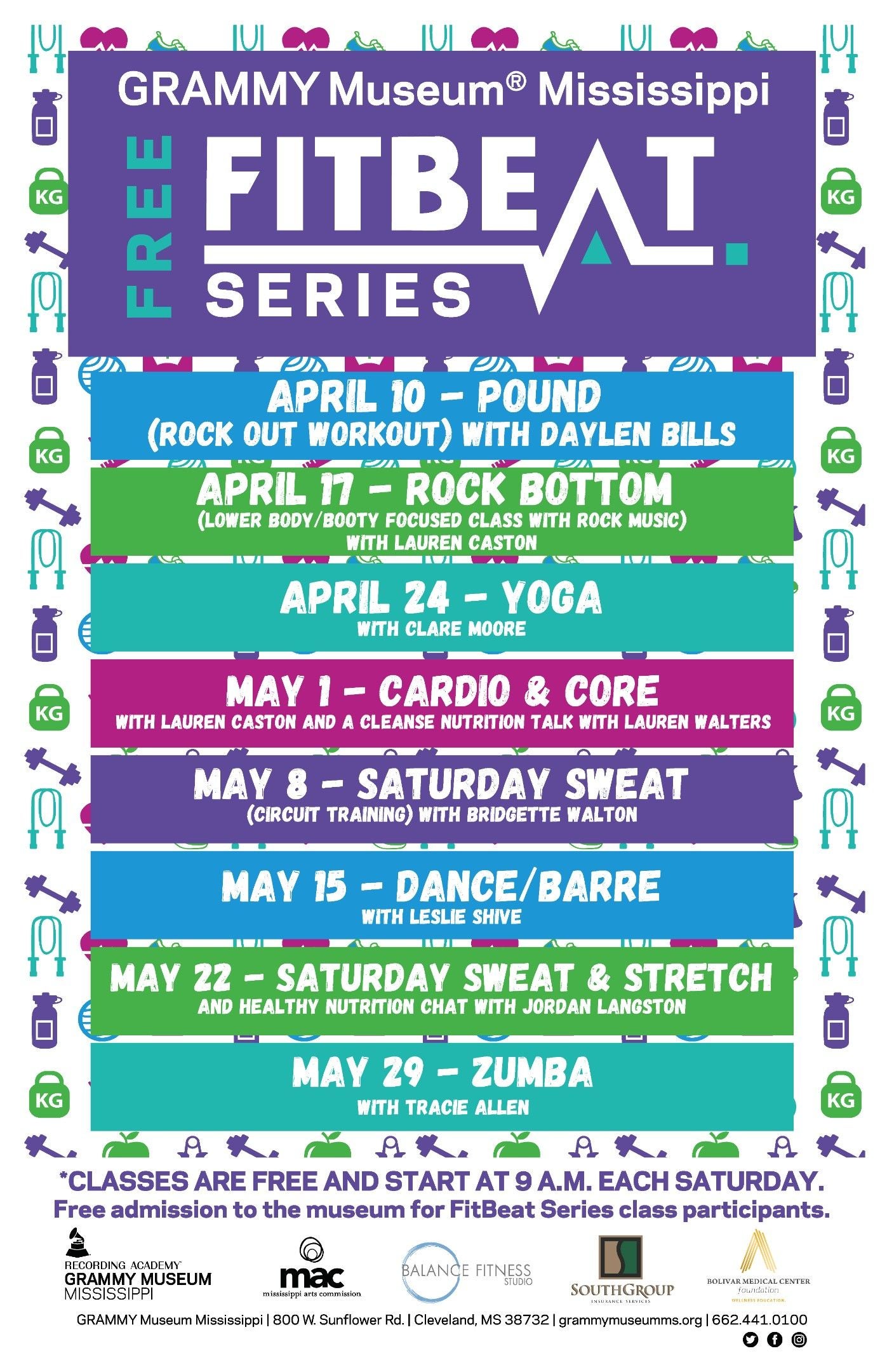 ---
The FitBeat Series presented by Bolivar Medical Center Foundation, Balance Fitness, Mississippi Arts Commission and GRAMMY Museum Mississippi will kick off on April 10, with scheduled events running through May 29. A complete list of confirmed events and dates is below. Each program will begin at 9 a.m.
April 10: Pound
Participants will work out while rocking out with Daylen Bills during this popular cardio-jam session inspired by the energizing fun of playing the drums.
April 17: Rock Bottom
Guests will work out their lower body and sweat to a playlist of rock music with this cardio class led by Lauren Caston.
April 24: Yoga
Participants can find their inner ohm with this yoga class taught by Clare Moore. Please bring a mat if you have one. If you don't, there will be a limited supply available for use on a first come first serve basis.
May 1: Cardio and Core
Lauren Caston will make guests work their core during this cardio workout class. Following the class, Lauren Walters will lead a cleanse nutrition talk.
May 8: Saturday Sweat
Participants will sweat it out during this circuit training with Bridgette Walton.
May 15: Dance/Barre
Guests will practice their moves and balance with a dance/barre class taught by Leslie Shive.
May 22: Saturday Sweat & Stretch
Participants can start their weekend with a good sweat and stretch, followed by a healthy nutrition chat with Jordan Langston.
May 29: Zumba
Participants will practice their dance moves while getting a good workout in during this Zumba class with Tracie Allen.
Workout classes and programs will take place on the lawn in front of GRAMMY Museum Mississippi. Participants do not have to sign up or purchase tickets to attend. Attendees should wear comfortable workout wear for each class.
---
In addition, to ensure that guests remain safe during health events taking place at the Museum, GRAMMY Museum Mississippi will have hand sanitizer stations located throughout the Museum and social distancing will be enforced. The Museum also encourages guests to wear masks at all time while in the Museum or participating in FitBeat Series events.
Additional Support From