Asian Heritage Family Day
Celebrating Asian American Pacific Islander Heritage
GRAMMY Museum MS

800 W Sunflower Rd

Cleveland, Mississippi 38732

Sep

10

, 2023

Show: 12:00PM
Asian Heritage Family Day will be held at the Museum on Sunday, Sept. 10, from 12 p.m. to 3 p.m. The FREE event will give attendees the opportunity to explore the GRAMMY Museum and its exhibits and participate in art activities with the Delta Arts Alliance. At 1 p.m., the Museum will host a special performance by Only Won and Larissa Lam on the front porch, followed by a special Stories on Screen showing at 3 p.m. Far East Deep South in the Sanders Soundstage!
This free Family Day event is sponsored in part by the Mississippi Arts Commission, Delta Arts Alliance, Needle Specialty Products Corp., The Asian American Foundation, The King's Daughters and Sons Circle Number 2, and the Maddox Foundation.
---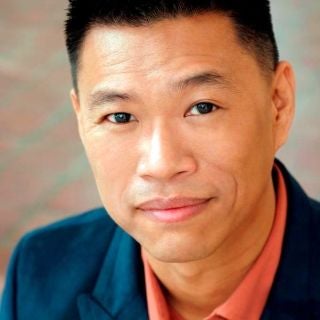 Baldwin Chiu
Baldwin Chiu was born in San Francisco and raised in Sacramento, where he later graduated from California State University, Sacramento with a degree in mechanical engineering. Chiu is also a motivational speaker and rapper known by his stage name, Only Won. His clever and witty videos like "Cantonese Boy," "12 Days of Dim Sum" & "I Wanna Be an Engineer" have gone viral with over one million views on YouTube. He was previously a spokesperson for the Intel/White House campaign, "Stay With It," and produced digital content promoting careers in science and engineering under the Obama administration. Chiu is also an actor who has appeared in films such as The Pursuit of Happyness, The Hulk and The Matrix. In 2018, Baldwin was named an Honoree for Mandarin Leader Magazine recognizing excellence amongst Chinese in North America, and he is also the recipient of Sacramento State's Distinguished Alumni Service Award.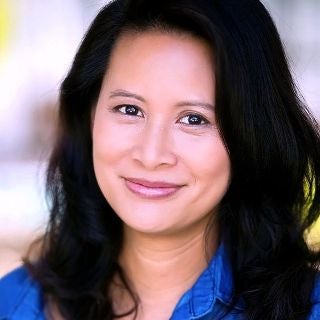 Larissa Lam
Larissa Lam is an award-winning singer and songwriter who has released four critically acclaimed solo albums, including her most recent, Love and Discovery. Her song, "I Feel Alive" won the Hollywood Music in Media Award for Best Dance Song and was the theme song for a national suicide prevention campaign. Lam began her career as the Chief Financial Officer of NSOUL Records and has written & produced music for TV (The Oprah Winfrey Show), film (Zulu, Gone) and video games (Konami, Square Enix). A dynamic speaker, she has spoken on diversity and inclusion, the Asian American experience among other topics at TEDx, numerous universities and Fortune 500 companies. For nine years, Lam hosted a talk show on JCTV interviewing prominent authors, humanitarians and celebrities. Currently, she hosts the podcast, "Love, Discovery and Dim Sum", which she co-hosts with her husband, Baldwin Chiu. Lam has also been contributing author to the L.A. Times and the Asian American anthologies, "Miso for Life" and "Pho for Life". She is a native of Diamond Bar, CA and graduated UCLA with a degree in Business Economics.
---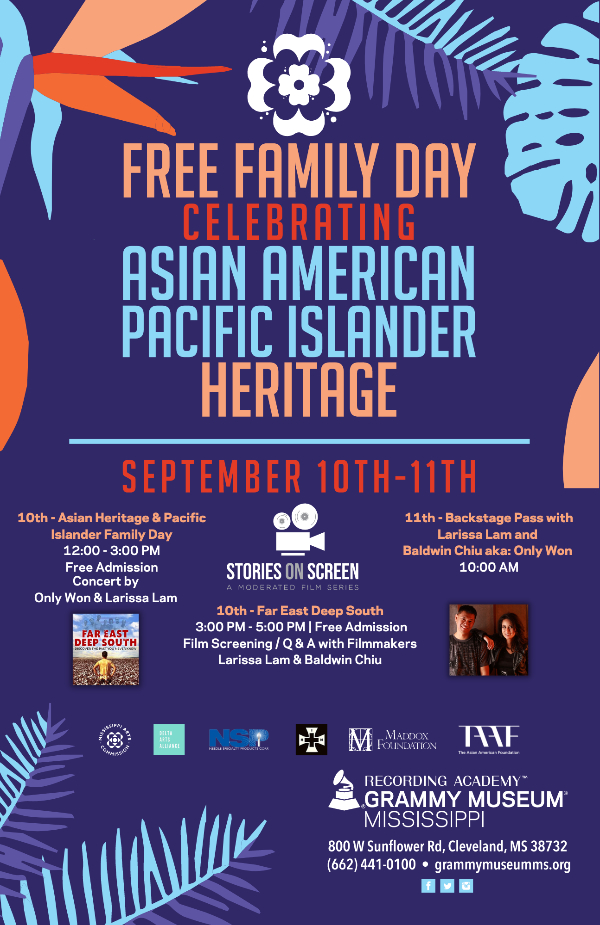 ---
Schedule of Events:
12 p.m. - 3 p.m. – Explore Museum Exhibits & Participate in Art Activities with Delta Arts Alliance. Food Vendors will be available on-site.
1 p.m. – Special performance by Only Won and Larissa Lam
3 p.m. – Stories on Screen: Far East Deep South in the Sanders Soundstage
*All times are subject to change without prior notice.
---
Family Day is sponsored in part by The King's Daughters and Sons Circle Number 2.
Additional Support From