Arts to Music
Featuring Joni Bishop
GRAMMY Museum MS

800 W Sunflower Rd

Cleveland, Mississippi 38732

Oct

26

, 2019

Show: 10:00AM
Children ages 5+ are invited to join in a day to celebrate the Arts with singer, songwriter, and visual artist Joni Bishop. Arts to Music is presented by GRAMMY Museum® Mississippi and Delta Arts Alliance. Participants will begin at Delta Arts Alliance to create a work of art based on the day's theme. They will then be transported to the Museum for lunch, sponsored by Domino's, followed by a tour of the museum and a songwriting workshop. Students will be ready for pickup between 2 p.m. – 2:15 p.m. at the GRAMMY Museum.
Advance registration is required. Registration deadline is Wednesday, Oct. 23, 2019.
Please note all events will take place at GRAMMY Museum Mississippi.
---
Schedule of Events:
10 am - 11:30 am - "Painting The Music" - This art workshop will focus on creating art with a music theme and is designed to let students have fun exploring the creative process regardless of their skill level. They will also examine the connection between music & art, how the two art forms intersect, and also how music inspires art & art inspires music. Students will create their own paintings of musicians, instruments, or anything musical, on wood & board, using acrylics & adding mixed-media elements (like foil, paper, found objects, etc) to their paintings to create new & surprising effects..The workshop will cover some basics about painting faces, capturing essential features, and will touch on topics like composition, theme, perspective, proportion, light, and color-on-color techniques.
11:45 - 1 pm - Lunch - Dominos Pizza / Tour GRAMMY Museum Mississippi Exhibits
1 pm - 2 pm - "Fun With Songwriting" - This will be an informal program focusing on the basics of writing a song - creating a "painting" using music & lyrics as the
'canvas'. Students will discover that some of the techniques & approaches they used in creating their visual art during the morning session can apply to creating a song. Topics will include: How to Structure a Song, How to Tell Stories, How to Create Images, How to Express Emotions and Ideas, How to Use Rhyme. Students will be encouraged to ask questions and engage in a discussion and will be challenged to try some simple exercises in lyric writing.
---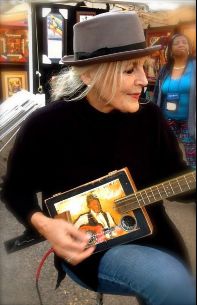 Joni Bishop began singing and writing her own songs soon after she got her first guitar at age nine. Her career as a singer-songwriter is well es-
tablished on the American folk music scene and she has toured extensively throughout the United States & Europe. Bishop's distinctive voice & accomplished guitar style have won her recognition in several noted International Song Festivals in the UK & Ireland. Her songwriting landed her a staff-writing deal with Galleon Music, a major music publisher in Los Angeles, and eventually led her to relocate to Nashville in 1989. She has won numerous songwriting awards, recorded for 2 major record labels, and has 5 original recordings to her credit. Bishop's songs have been covered by artists including country legend Crystal Gayle, as well as many independent folk & bluegrass groups around the country.
Aside from music, Bishop is also a painter, photographer, and more recently, an instrument maker. Her handmade cigar-box guitars have become a featured part of her solo performances and have been shown in galleries & at numerous art & music festivals. For more information visit her online.
Additional Support From