An Evening of Art & Music
Featuring Joni Bishop
Delta Arts Alliance

104 South Court Street

Cleveland, Mississippi 38732

Oct

25

, 2019

Show: 6:00PM
GRAMMY Museum® Mississippi and Delta Arts Alliance members are invited to participate in An Evening of Art & Music featuring singer, songwriter, and visual artist Joni Bishop.
Nashville singer-songwriter-visual artist Joni Bishop will open the evening with an informal Q&A / discussion about her music, art, and how the two have worked hand-in-hand in forming her decades-long career as a performer. She will also demonstrate some of her handmade ʻart guitars', talk about her creative process, share inspirations and stories about her journey as a songwriter & artist, and welcome questions from the audience. (Note to artists: Bring your sketchbooks and have some fun drawing during the live concert that will follow!)
The evening will be topped off by A Concert! Joni Bishop and GRAMMY® Award-winning songwriter Tricia Walker will share the stage for a set of warm & wonderful original songs.
Joni's art, photography & hand-made folk instruments will also be on display and for sale at the event in an Art Exhibit that you won't want to miss!
Advance registration is required. Registration deadline is Wednesday, Oct. 23, 2019.
---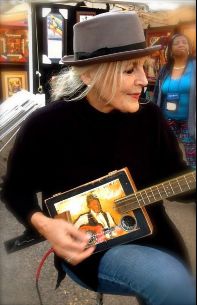 Joni Bishop began singing and writing her own songs soon after she got her first guitar at age nine. Her career as a singer-songwriter is well es-
tablished on the American folk music scene and she has toured extensively throughout the United States & Europe. Bishop's distinctive voice & accomplished guitar style have won her recognition in several noted International Song Festivals in the UK & Ireland. Her songwriting landed her a staff-writing deal with Galleon Music, a major music publisher in Los Angeles, and eventually led her to relocate to Nashville in 1989. She has won numerous songwriting awards, recorded for 2 major record labels, and has 5 original recordings to her credit. Bishop's songs have been covered by artists including country legend Crystal Gayle, as well as many independent folk & bluegrass groups around the country.
Aside from music, Bishop is also a painter, photographer, and more recently, an instrument maker. Her handmade cigar-box guitars have become a featured part of her solo performances and have been shown in galleries & at numerous art & music festivals. For more information visit her online.
Additional Support From